The future of Investment Advice with Clover CEO Harry Chemay
Before founding the fintech startup Clover, Harry Chemay had spent over a decade as a financial planner advising individuals, before shifting to asset consulting where he advised institutions such as superannuation funds and university endowments. In the process, he arrived at the conclusion that the financial advice industry was primarily geared towards helping older Australians plan for retirement, while not engaging with younger Australians and those with modest means.
Harry concluded that "part of the reason is financial advice is very expensive to provide."
It was made expensive by the need for highly trained professionals and onerous compliance requirements due to the highly regulated nature of the profession.
In the meantime, the advent of algorithm-driven robo-investing in the US was bringing down the costs of investment advice by cutting through the traditional inefficiencies of the process and making investing much more affordable and accessible. Harry and co-founders Sahil Kaura, Darcy Naunton and Warren Burns, with backgrounds in financial planning, investment management, venture capital and technology respectively, decided to try and bring the robo-investing technology to Australia. Harry, Sahil and Darcy had previously worked together in the investment consulting division of Mercer. Their vision was to create an automated advice and investment management solution that invests client funds into diversified portfolios of Exchange Traded Funds (ETFs) that track market indices, while charging much lower fees as compared to traditional investment products. This led to the birth of Clover.com.au.
In our Startup Melbourne podcast, I spoke to Harry at length about the financial theory and technology behind this next generation investment product and the journey of Clover till this point.
Modern Portfolio Theory and ETFs
While robo-investing and robo-advice are relatively new, the financial underpinnings of this technology can be found in Modern Portfolio Theory, first articulated by Harry Markowitz in 1952. According to this theory, which has been the cornerstone of modern finance, it is possible to create an optimal investment portfolio through effective diversification of investment assets that maximises the return for a given level of risk. What this theory also predicts is that it is virtually impossible for a single investor to beat the market after fees and costs.
Harry Chemay explains, "With so many talented people looking at the news and imputing that news into share prices every second of every trading day, the average investor really has no chance against the global 24x7 system of money management."
So the sensible thing for retail investors is not to try to beat the market but to harvest the return of the market through products such as Exchange Traded Funds or ETFs that are listed on the stock exchange and try to replicate benchmark indices. Indices refer to financial and stock market indices such as the S&P 500 in the US and S&P/ASX300 in Australia.
What ETFs essentially do is hold a combination of assets (such as shares) from a particular market that helps it to track a market index and move up and down with it. There are over 150 ETFs available in Australia that track the Australian and international stock markets, bonds, cash and real estate. This allows for the creation of robust investment portfolios by buying and holding a combination of ETFs. The other big advantage of ETFs is that they charge low fees as they do not involve active fund management, which helps in lowering trading costs and increasing tax efficiency. This intrinsic efficiency and cost-effectiveness of ETFs is the fundamental basis for Clover's investing technology.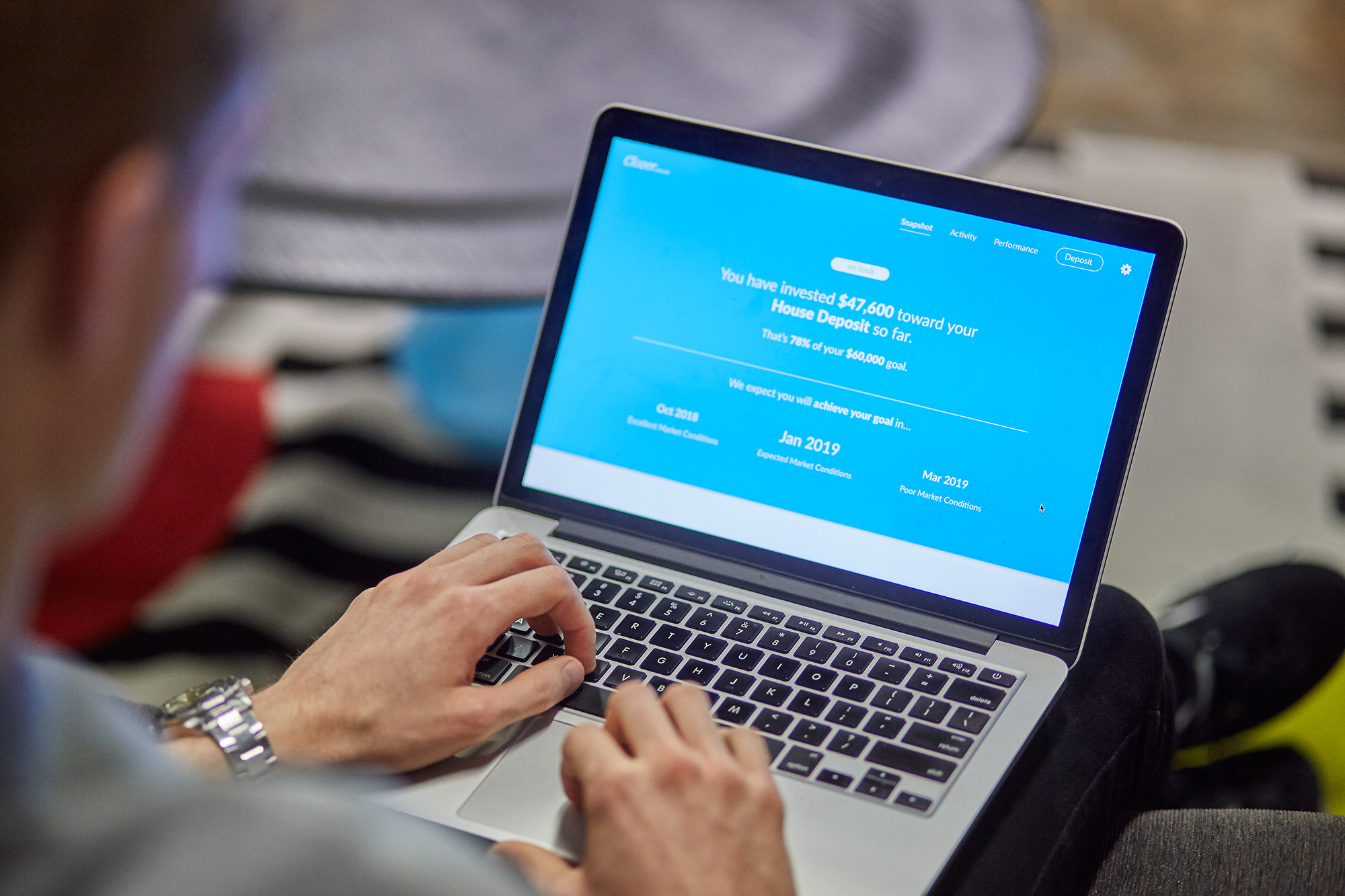 Clover's Investing Technology
Harry explains the technology behind Clover in the following terms, "Our algorithms matchup investors to an appropriate diversified portfolio that we have researched and composed, and we will invest for that client on their behalf."
Clover's makes investing fun and convenient by helping clients invest in ETF portfolios based on their financial goals and time horizon through a beautifully designed website right from the comfort of their living room at whatever time they choose. This spells a significant departure to traditional financial planning when one would have to physically go into a financial planner's office during work hours for a consultation.
Being targeted at younger Australians who haven't quite saved up a nest egg as yet, Clover is aiming to reduce the barrier to entry into investing by having a small initial requirement of $5,000 for new customers joining the platform.
Harry acknowledges, "But the key thing for us is not that $5,000 is going to make them financially secure, it's the ability to save and to be consistent and disciplined about saving on a regular basis that helps to turn modest initial contributions into something of a nest egg."
Furthermore, by basing their investments on ETFs and algorithms and avoiding active fund management, Clover can significantly reduce costs involved in managing client funds. Clover is currently free for new users until June 2017, when they will begin charging for the service. Fees start at $7 a month (excluding GST) for accounts under $10,000, or from 0.45% to 0.75% per year (excluding GST), depending on the size of the portfolio above $10,000. There are no additional advice fees, account opening fees, or brokerage fees for Clover clients.
Future of Financial Advice
Like all other industrial sectors being enhanced by technology, the introduction of robo-investing by fintechs such as Clover is changing the financial advisory landscape after several decades of stagnation. Interestingly enough, this change will not necessarily mean an end to the traditional financial advice as it is now, but expand the pie as affordable, on-demand platforms allow more millennials to get started on investing earlier on in their lives.
For aspiring fintech founders, Harry emphasises the importance of training and experience before venturing into this exciting as well as highly regulated and specialised field.
Referring to recent research by EY, Harry concludes, "I think the median age of fintech founders was 41, which is significantly higher than what you would expect for most tech companies; but that's because a lot of fintech founders have had at least one and often times up to two decades in finance before they have gone out and founded their fintech startups."
Shu and Startup Melbourne would like to wholeheartedly thank Harry Chemay for his inputs towards the article and the podcast.
Disclaimer: This article is for information only and in no way constitutes financial advice.