sleepbus Founder's Mission to End Australians Sleeping Out on the Streets
How the sleepbus story began
Just over eighteen months ago in the Melbourne suburb of Saint Kilda, entrepreneur and business consultant Simon Rowe had a chance encounter with a homeless man sleeping on the sidewalk covered head-to-toe in a white doona and oblivious of passersby stepping over him. The man explained to Simon how he preferred to sleep during the day in a crowded place rather than risk his safety trying to get a night's rest. It brought back memories of Simon's own homelessness as a teenager when he had to sleep in his car for four months before he could save enough for accommodation. At the urging of his two older children, Simon set out on a mission to tackle the problem of cost-effective and safe nightly shelter for some our nation's most vulnerable people.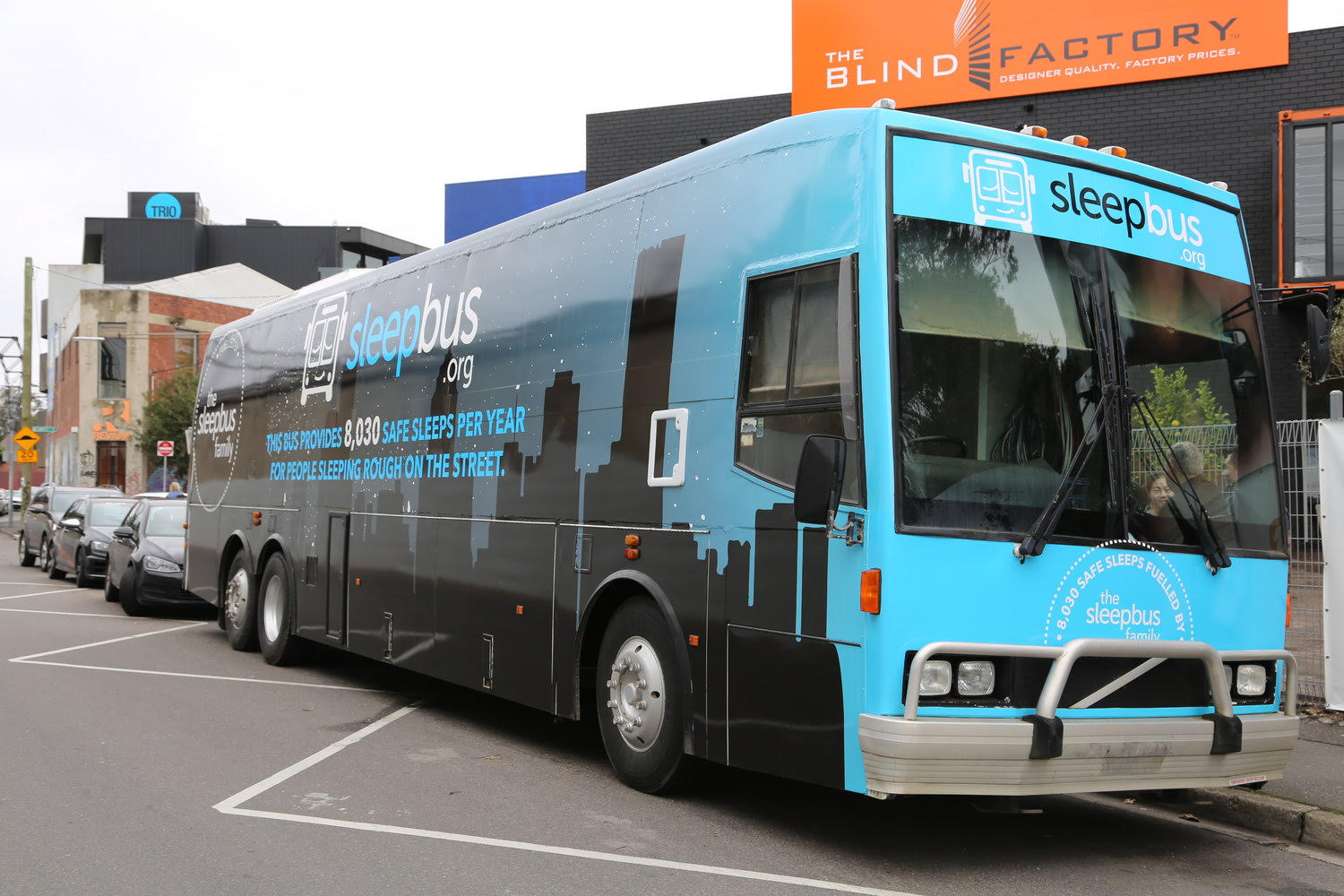 The sobering ABS statistics from 2011 indicate that there are over 105,000 homeless in Australia with over 6% of them (or 6,300) sleeping rough on any given night. To get to the crux of the issue, Simon went undercover as a homeless man and spent some sleepless nights at the shelters. What he found was serious overcrowding, lack of safety and privacy and strict rules around not accepting people involved with drugs, alcohol, mental health conditions and even pets. With existing policies around affordable housing several decades away from having any real impact, and brick-and-mortar shelters rather expensive and not easily adaptable to the needs of the homeless, Simon saw this opportunity to come in with a radical solution.
The sleepbus Project
Simon undertook extensive research over a twelve month period on different solutions and found inspiration in the San Francisco-based nonprofit Lava Mae that brings free showers and toilets on buses to the homeless. This took him down the pathway of creating a fresh business strategy around sleep pods in buses that would provide for the need of safe sleeping spaces and would be cool and innovative enough to resonate with the younger generation.
The sleepbus is equipped with 22 sleep pods, each with a lockable door, quality bedding and sheets, lights, climate control, charger and intercom. There are even eight climate controlled pet kennels underneath the bus for guests with pets. The bus is also equipped with two toilets.  All pods have a TV with free-to-air television and a channel dedicated to support services.
The sleepbus mantra is "Sleep changes everything". Simon further explains, "The idea is if everybody can get a good night's sleep, then with a clear head in the morning, the pathways out of homelessness and pathways out of that situation might be a little bit easier to find and that's my hope."
A caretaker is employed on-site to stay throughout the night and monitor the guests. All guests have intercom access to the caretaker, and there are security cameras for added safety. Each bus can provide 8030 safe sleeps per year which can have a tremendous impact in the lives of those who would otherwise be sleeping rough.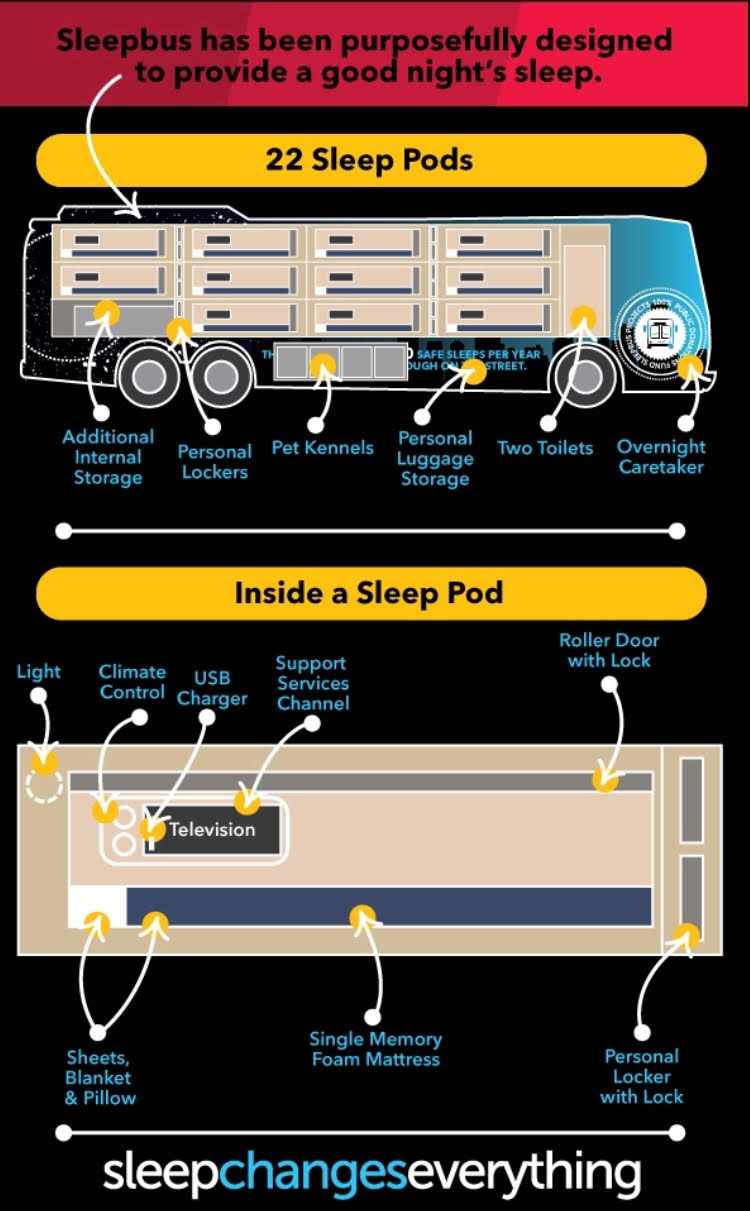 Operational Model
sleepbus is designed to complement existing services for the homeless and expand capacity in a very cost effective manner. Simon's estimate indicates that sleepbus can provide safe nightly sleeps for as little as $27.50 per day on a complimentary basis, which represents a  cost saving of up to four times relative to traditional brick-and-mortar establishments.
Simon has also instituted a few lean strategies around how the bus is going to be built. The fit-out process which is inspired by Ford's manufacturing methodology is designed in such a way that  4 buses can be completed in 4 weeks largely without the need for any skilled labour. Thus, there is a potential for providing opportunities to young people and supporting their entry into the workforce.

Funding for sleepbus
With the cost of purchase and fit-out of each bus being $60,000, Simon has several strategies us his sleeve for raisings funds for the sleepbus project. Simon launched a GoFundMe crowdfunding campaign in February 2016 with the aim of raising $20,000 for a pilot. The target was reached within 4 days with the story raising global interest and a significant portion of the funds coming in from the UK. The Age and Sydney Morning Herald also picked up the story, and the goal was bumped up to pay for the first bus and the launch of the pilot program. In total, sleepbus has raised over $115,000 to date, and this makes receiving traction for future buses a lot more feasible.
As Simon explains, sleepbus operates on a 100% model, "I have two accounts, the corporate account and the donations account. All public donations goes into the donations account and 100% of that money goes into building buses and putting them on the road and operating them, and we track it."
The innovative donation tracking allows for greater transparency for donors who can login online and check which bus their money has gone into and vital statistics about the bus such as the number of sleeps it has provided.
The Power of Generosity
What Simon has experienced first-hand throughout the project is the incredible generosity people have in the community. Simon was living on his savings, spending every available minute on his dream sleepbus when he received a call from a company in the building industry who were willing to cover his wages for the next three years without asking for anything in return. Similarly, some corporates have been generous enough to open up their spare meeting rooms for sleepbus to use as office space and volunteer accountants have come on board to help with finances.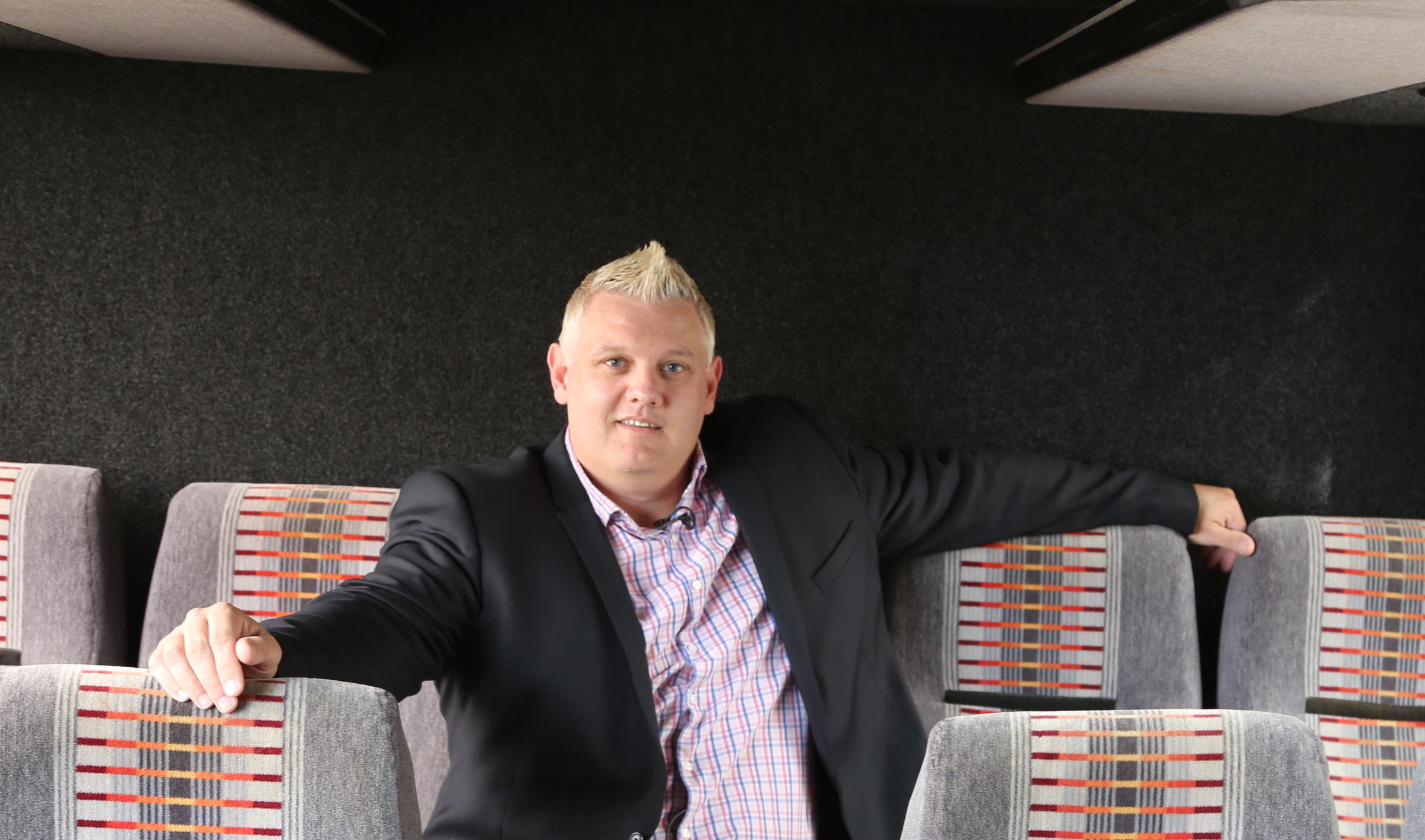 The Future of sleepbus
The sleepbus is now waiting for the final sign-offs before the pilot can officially begin. The first bus has been allocated a spot on Fitzroy Street in Saint Kilda, and there are already orders for buses from all over Australia. Simon has bold plans for scaling up the project to 319 buses over the next 6 years, the number that would take to get every person across Australia off the street. Being the first of its kind in the world, several other nations such as the UK, Ireland, Spain, France and Germany are seriously considering how the same model can be applied within their communities. Therefore, Simon believes that there is a great opportunity to make an impact on a global scale through international partnerships and training.
All in all, sleepbus is an incredible example of a social enterprise tackling an issue that is close to the heart for many around Melbourne and Australia. Simon has come up with an innovative solution that comes as a breath of fresh air for thousands of people in need. It will be very interesting to follow the progress of the project in the coming months and years.
To stay in touch with the sleepbus Project or to donate to their amazing program, please visit http://www.sleepbus.org/.